School Policies
Student Handbook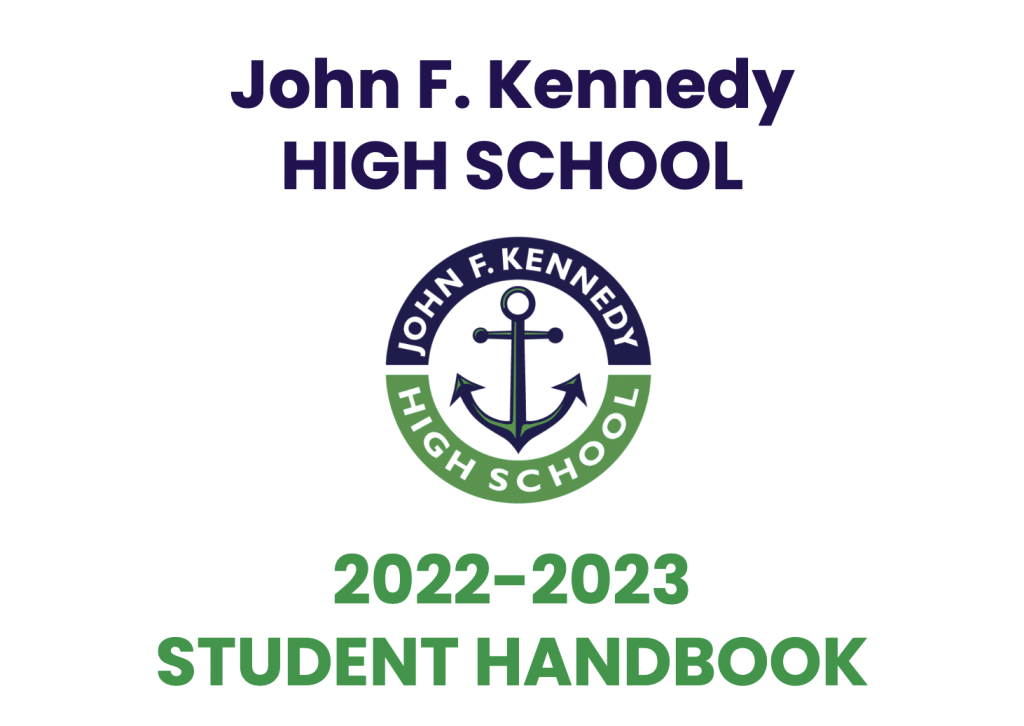 Attendance Policy
Tardy Policy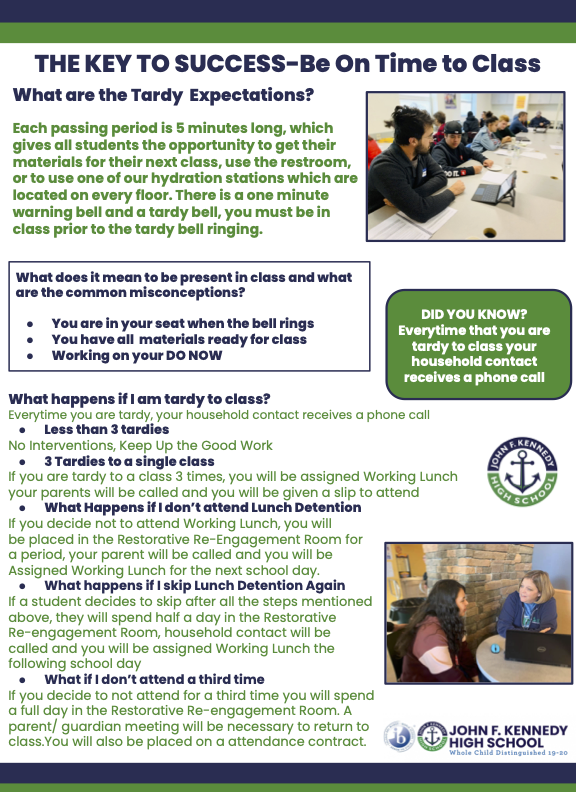 Dress Code Policy 22-23
WHY? We believe that inclusion matters; therefore, we will prioritize individuality, personal expression, and cultural responsiveness. Commanders will be provided the opportunity to show pride in their appearance. If a Commander's self-expression includes inappropriate language OR promotes drugs, alcohol, or gang-related culture, the student will be addressed by JFK Staff.
The Overview
Setting the Tone Students will dress for school by:
-cover/conceal their genitals, nipples, midriffs, and butt.
-not wear clothing that promotes drugs, alcohol, obscenities, gangs, weapons, or hate speech.
-not wear bandanas on any part of their body.
-keep their faces visible; hats or visors may be worn inside of the building.
Build relationships with peers and teachers that are based on complimenting appearance, not policing it.
-No solid color outfits, meaning wearing all one color(I.E. Blue, Red, Yellow, Purple)

School to Home Connection
-Inform students of the dress code at the beginning year via the 9th-grade academy and advisory
-Parents will be notified of student dress code violations.

Accountability/Tracking System
-The teacher discusses with the student and remedies the violation.
-In the event of a dress code violation that cannot be remedied in a classroom, the teacher calls the Skills for Success room (x34472); one member of the culture team comes to determine the severity of the violation and the next steps for preventing further violations: A member of the Culture comes to the classroom with an alternative item of clothing so that intervention steals as little instructional time as possible. The Culture Team or Teacher calls home and documents in IC (who referred, what was a violation, what was the result of intervention).

Special Considerations/Accommodations
-Religious headwear exceptions
Key Players – the actions of students, teachers, leaders, visitors
Students
-Students will adhere to the dress code policy daily.
-Students will reference the student handbook for specific details on dress code as it relates to school events and special circumstances. 
Teachers
-Teachers discuss with students and remedies violations
-Teachers call Skills for Success in the event of a dress code violation In the event of a dress code violation that cannot be remedied, those issues are deflected and teachers can continue to focus on instruction.
-Teachers prioritize instructional time over students' appearance.
-Teachers will verbally address dress code violations in the hallway as they are seen.
Leaders
-Admin and behavior team are available to address dress code violations with students on behalf of teachers.
-Admin and behavior teams will arrive quickly to address violations.
-Admin supports a clothing bank of sterilized clothing that can be utilized by students in violation of the dress code. 
-Leaders will address dress code violations in the hallway as they are seen.
---
Política de código de vestimenta 22-23
¿POR QUÉ? Creemos que la inclusión importa; por lo tanto, daremos prioridad a la individualidad, la expresión personal y la receptividad cultural. Los comandantes tendrán la oportunidad de mostrar orgullo por su apariencia. Si la autoexpresión de un Comandante incluye un lenguaje inapropiado O promueve las drogas, el alcohol o la cultura relacionada con las pandillas, el personal de JFK se dirigirá al estudiante.
La descripción general
Estableciendo el tono
Los estudiantes se vestirán para la escuela:
-cubriendo /ocultando sus genitales, pezones, abdomen y trasero.
-No use ropa que promueva drogas, alcohol, obscenidades, pandillas o discursos de odio.
-no use pañuelos en ninguna parte de su cuerpo.
-mantener sus rostros visibles; Se pueden usar sombreros o viseras dentro del edificio. Build relaciones con sus compañeros y profesores que se basan en complementando apariencia, no vigilarla.
-Los estudiantes deben cubrirse la cara con la nariz y la boca en todo momento. De acuerdo con la política de DPS

Conexión entre la escuela y el hogar
-Informar a los estudiantes sobre el código de vestimenta al comienzo del año a través de la academia de noveno grado y asesoría.
– Lospadres serán notificados de las violaciones del código de vestimenta de los estudiantes.

Responsabilidad / Sistema de seguimiento El
-maestro habla con el estudiante y remedia la violación.
-En el caso de una violación del código de vestimenta que no se puede remediar en un salón de clases, el maestro llama al salón de Habilidades para el éxito (x34472); un miembro del equipo de cultura viene a determinar la gravedad de la infracción y los siguientes pasos para prevenir nuevas infracciones:
-Un miembro de la cultura llega al aula con una prenda alternativa para que la intervención robe el menor tiempo de instrucción posible.
-El Equipo de Cultura o Maestra llama a casa y documenta en IC (quién refirió, qué fue la infracción, cuál fue el resultado de la intervención).

Consideraciones especiales / Adaptaciones
Excepciones de sombreros religiosos
Jugadores clave: las acciones de los estudiantes, maestros, líderes, visitantes
Estudiantes
-Los estudiantes se adherirán a la política del código de vestimenta Diariamente.
-Los estudiantes consultarán el manual del estudiante para obtener detalles específicos sobre el código de vestimenta en lo que se refiere a eventos escolares y circunstancias especiales. 
Maestros El
-maestro discute con el estudiante y soluciona la violación
-Los maestros llaman a Skills for Success en caso de una violación del código de vestimenta En caso de una violación del código de vestimenta que no se puede remediar, para que esos problemas se desvíen y los maestros puedan continuar enfocándose en la instrucción.
-Los maestros priorizan el tiempo de instrucción sobre la apariencia de los estudiantes.
-Los maestros abordarán verbalmente las violaciones del código de vestimenta en el pasillo, a medida que las vean.
Ellíderes
-equipo de administración y comportamiento de losestá disponible para abordar las violaciones del código de vestimenta con los estudiantes en nombre de los maestros.
-Los equipos de administración y comportamiento llegarán rápidamente para abordar las infracciones.
-El administrador apoya un banco de ropa de esterilizada ropaque los estudiantes puedan utilizar en violación del código de vestimenta. 
-Los líderes abordarán las violaciones del código de vestimenta en el pasillo a medida que se las vea.